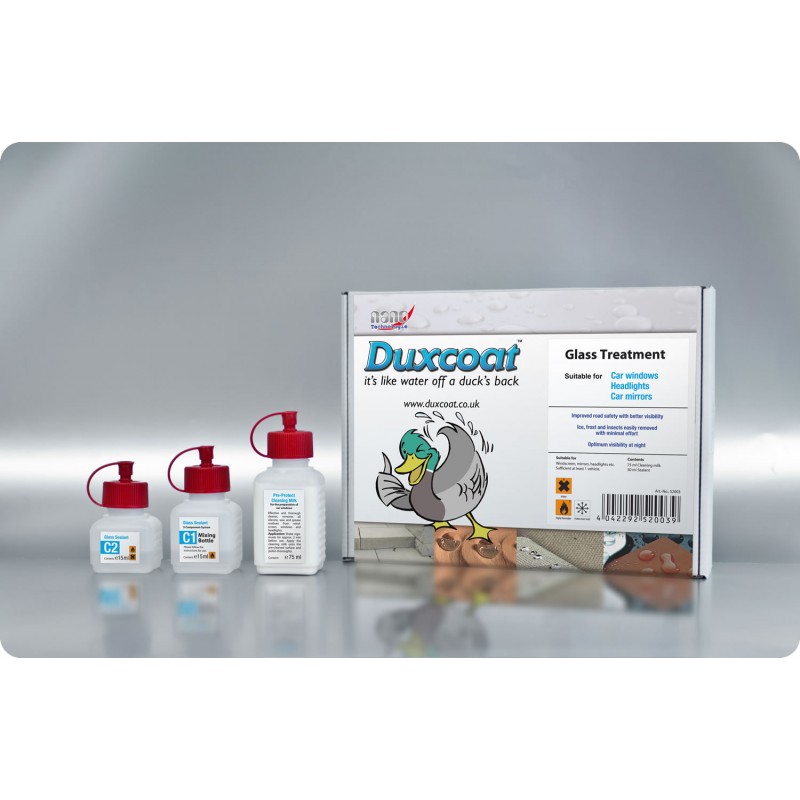  
Glass Treatment
Duxcoat Automotive Glass Sealant
Drive in Pouring Rain without Wipers-simple removal of ice-if it sticks at all!
Contains
75ml Pre Cleaning Milk

25ml Nano Component 1

25ml Nano Component 2

3 Polishing Cloths

Security policy
SSL, security technology ensures that all data passed between our Web server and your browser remains private and secure.

Delivery policy
We deliver free of charge on all orders over £25 (orders less than £25 will incur a small delivery charge of £3.00). We will normally send your order to you on the next business day by courier or Royal Mail with tracking information.

Returns policy
We want you to be fully satisfied with your purchase. You may return items within 30 days.
Duxcoat Nano Glass sealing provides for safer driving in foul conditions for up to 1 year.
This simple to apply product will treat all windows, headlights and wing mirrors.
Once treated the surfaces are dirt and water repellent.
Night time driving in pouring rain becomes a very different experience; you won't even know it's raining once driving over 40 mph!!.
The Sealant is UV- resistant plus resistant to car washes and chemical cleaning.
The Advantages of Duxcoat Nano Glass Sealing
Safer driving in foul conditions
Greatly reduced use of wipers
Simple removal of bugs in summer, ice in winter.
Resistant to mechanical or abrasive cleaning
Long Lasting