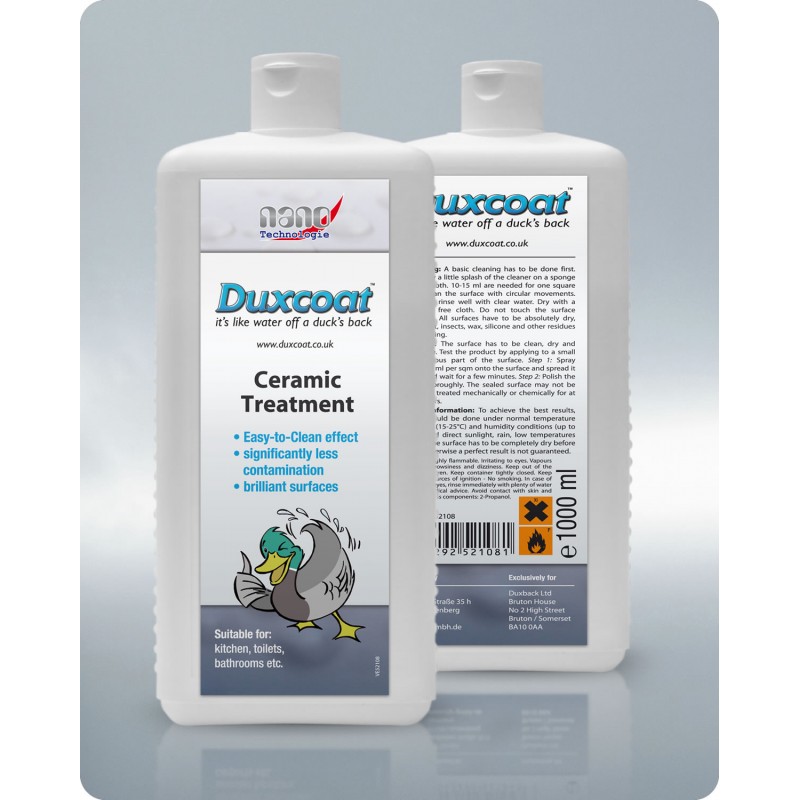  
Ceramic Treatment (1000ml)
Duxcoat Glass and Ceramic Sealing
1000 ml Duxcoat Nano Sealant

1000 ml Pre Cleaner
Sufficient for 8-10 sq metre
Keeping surfaces brilliantly clean.

Security policy
SSL, security technology ensures that all data passed between our Web server and your browser remains private and secure.

Delivery policy
We deliver free of charge on all orders over £25 (orders less than £25 will incur a small delivery charge of £3.00). We will normally send your order to you on the next business day by courier or Royal Mail with tracking information.

Returns policy
We want you to be fully satisfied with your purchase. You may return items within 30 days.
Can be simply applied to all ceramic and glass surfaces sealing out and protecting against bacteria, lime scale and germs whilst maintaining a brilliant clear shine.
Save time, effort and money as cleaning becomes simple and detergent free.
Easy to apply, just spray on the surface, wait to dry and polish with a soft cloth
The Advantages of Duxcoat Nano Glass & Ceramic Sealing
Easy to clean without detergents
Antibacterial and lime scale free
Brilliant surfaces
Less adhesion of grime and dirt
Save time and money
Suitable for:
Kitchens
Bathrooms
Sanitary areas
Hospitals