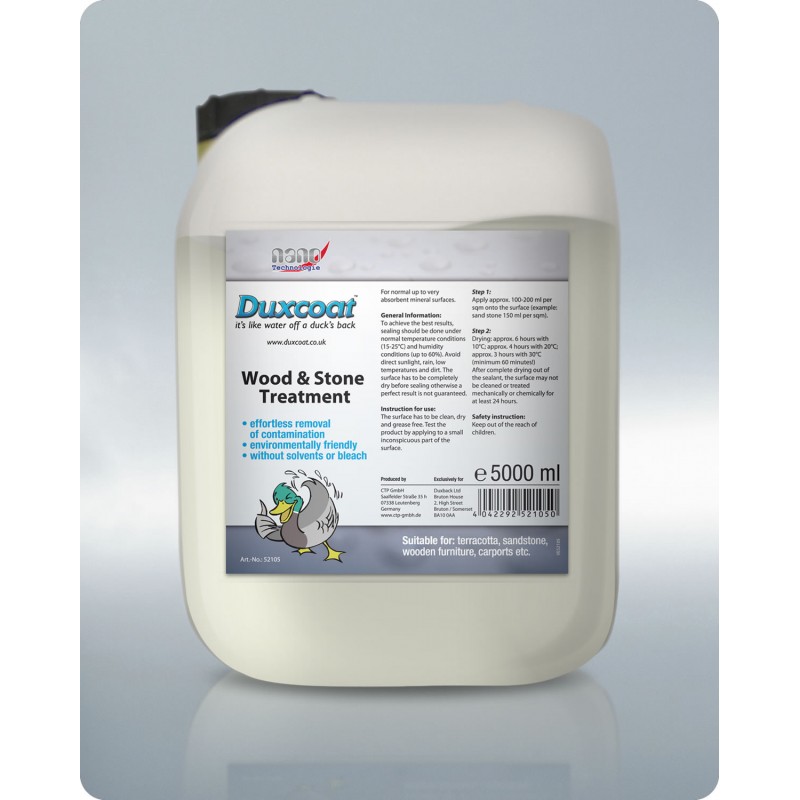  
Wood & Stone Treatment (5000ml)
Duxcoat Nano Timber and Stone Sealant
5000 ml Duxcoat Nano Sealant

5000 ml Pre Cleaner
Sufficient for 50 sq metre

Security policy
SSL, security technology ensures that all data passed between our Web server and your browser remains private and secure.

Delivery policy
We deliver free of charge on all orders over £25 (orders less than £25 will incur a small delivery charge of £3.00). We will normally send your order to you on the next business day by courier or Royal Mail with tracking information.

Returns policy
We want you to be fully satisfied with your purchase. You may return items within 30 days.
Protection in Home and Garden
Duxcoat Sealed Surfaces become resistant to Dirt and Fluids.
Suitable for all wood and stone surfaces including wall and floor tiles, window frames, doors etc. Porous surfaces such as terracotta, marble, sandstone and even rendered walls become completely resistant to water and other fluids.
Hardwood surfaces such as carports and teak garden furniture can be protected and preserved by this transparent, UV resistant breathable product.
The Advantages of Duxcoat Nano Timber and Stone Sealing
Simple Application
Long Lasting-many years of protection.
Breathable
UV Resistant
duxcoat_wood_stone_5000ml