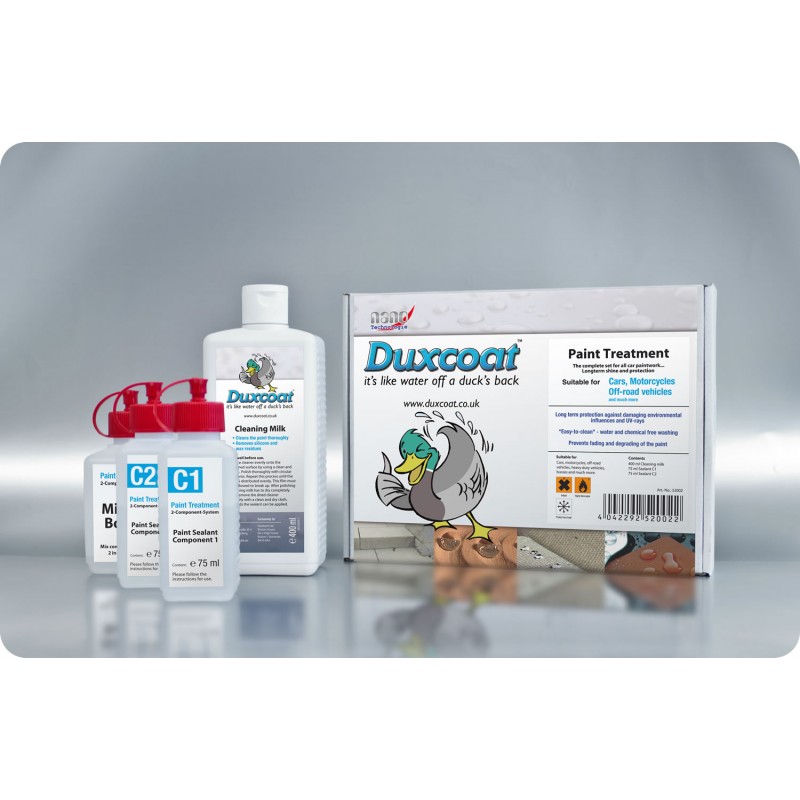  
Paint Treatment
Duxcoat Automotive Paint Sealant
Contains
400ml Pre Cleaning Milk

75ml Nano Component 1

75ml Nano Component 2
Sufficient for 1 car.

Security policy
SSL, security technology ensures that all data passed between our Web server and your browser remains private and secure.

Delivery policy
We deliver free of charge on all orders over £25 (orders less than £25 will incur a small delivery charge of £3.00). We will normally send your order to you on the next business day by courier or Royal Mail with tracking information.

Returns policy
We want you to be fully satisfied with your purchase. You may return items within 30 days.
Professional Paint Sealing using Nano Technology for a long lasting surface protection with a deep gloss appearance.

Simple to Apply. The Pre Cleaner will restore old paintwork.
Once applied the product will provide lasting protection against sunlight, bird droppings, tree sap etc. The brilliance and the shine of the original paint will be maintained and allow for easy cleaning without the need detergents or for waxing.

The Advantages of Nano Paint Sealing

After sealing - no more polishing and waxing necessary
UV-protection, protects the paint of your car against bleaching.
Increased resistance against scratches
Less chemical cleaning; dirt, insects and other contaminations are easier to remove
Long-term protection against aggressive environmental influences
Easy to clean
Protection during automatic car wash

Also Suitable for:

Buses & Trucks
Motorbikes
SUV